Topaz & Pearl is standing in the fight against human trafficking.
5% of our sales are donated to Operation Underground Railroad.
Robbing a child of their destiny is like stealing history before it is written.
WE CAN END MODERN SLAVERY
Human trafficking is the fastest growing criminal enterprise in the world.
Operation
Underground
Railroad

SINCE BEING FOUNDED IN DECEMBER 2013,
O.U.R. has gathered the world's experts in extraction operations and in anti-child trafficking efforts to bring an end to child slavery. O.U.R.'s Ops Team consists of former CIA, past and current law enforcement, and highly skilled operatives that lead coordinated identification and extraction efforts. These operations are always in conjunction with law enforcement throughout the world. Topaz & Pearl is proud to support this amazing organization!
that there are more people enslaved today than any other time in history, my life changed. Human trafficking is a dark topic, and not one that I thought I'd be posting about on my jewelry site. However, as a person who cherishes my freedom and as an empath, I couldn't stay silent when I learned just how big of a problem this is. I made a commitment to help combat this problem and raise awareness about this uncomfortable issue.

The statistics about human trafficking, especially the heinous world of child sex trafficking, hit me (and my soul) like a ton of bricks. This is an epidemic so dark, so uncomfortable that it's hardly discussed at all, even though it's happening so prevalently in the U.S. and around the world.

I chose to pledge a donation to Operation Underground Railroad because I am especially moved by their heroic efforts. I'm also committed to raising awareness and providing educational resources to the community. Without discussion and awareness on this subject, there can be no real progress for defeating it.

As a handmade business owner I am so blessed to be chasing my dream as a free woman. Freedom has always been the root inspiration for Topaz & Pearl. I feel called to use my blessings and platform to be a voice for those who aren't yet free. This new commitment has given me a renewed sense of purpose and drive in my business.

Thank you for your continued support and for joining me in the fight to save the world's children.

-Julia Cipollone
Founder & Maker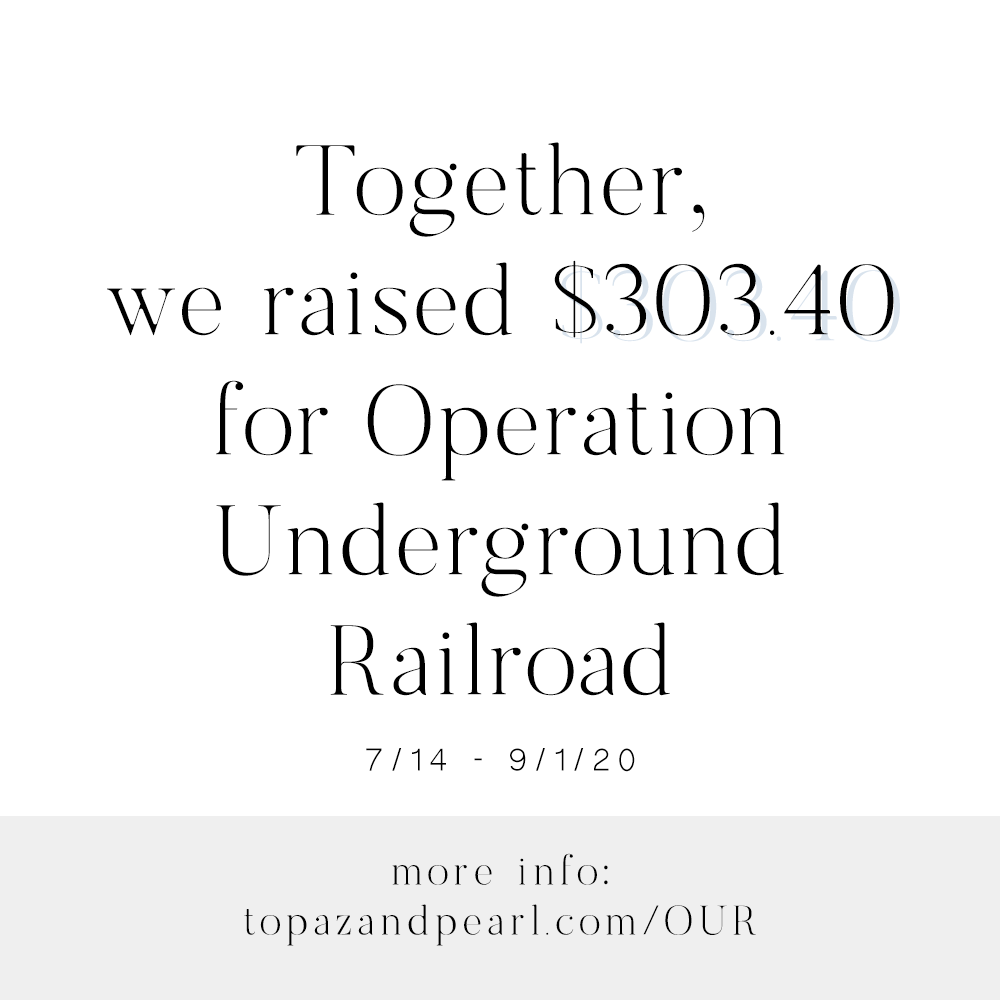 Slave Stealers by Timothy Ballard
Educational documentaries: