FAQs: Everything You Need to Know About Raw Gemstone Jewelry
Answers to frequently asked questions about Topaz and Pearl's boho chic raw gemstone jewelry.
Natural beauty: no filters, no refinement
Raw gemstones are unique like snowflakes, just like the people they often represent in a piece of personalized birthstone jewelry. If you're someone who appreciates natural beauty—like the sparkling aquamarine tint of the ocean at sunrise, or the bold orange that embellishes a mountain on a fall road trip—you will love the kaleidoscope of color and rare uniqueness found in raw gemstone jewelry.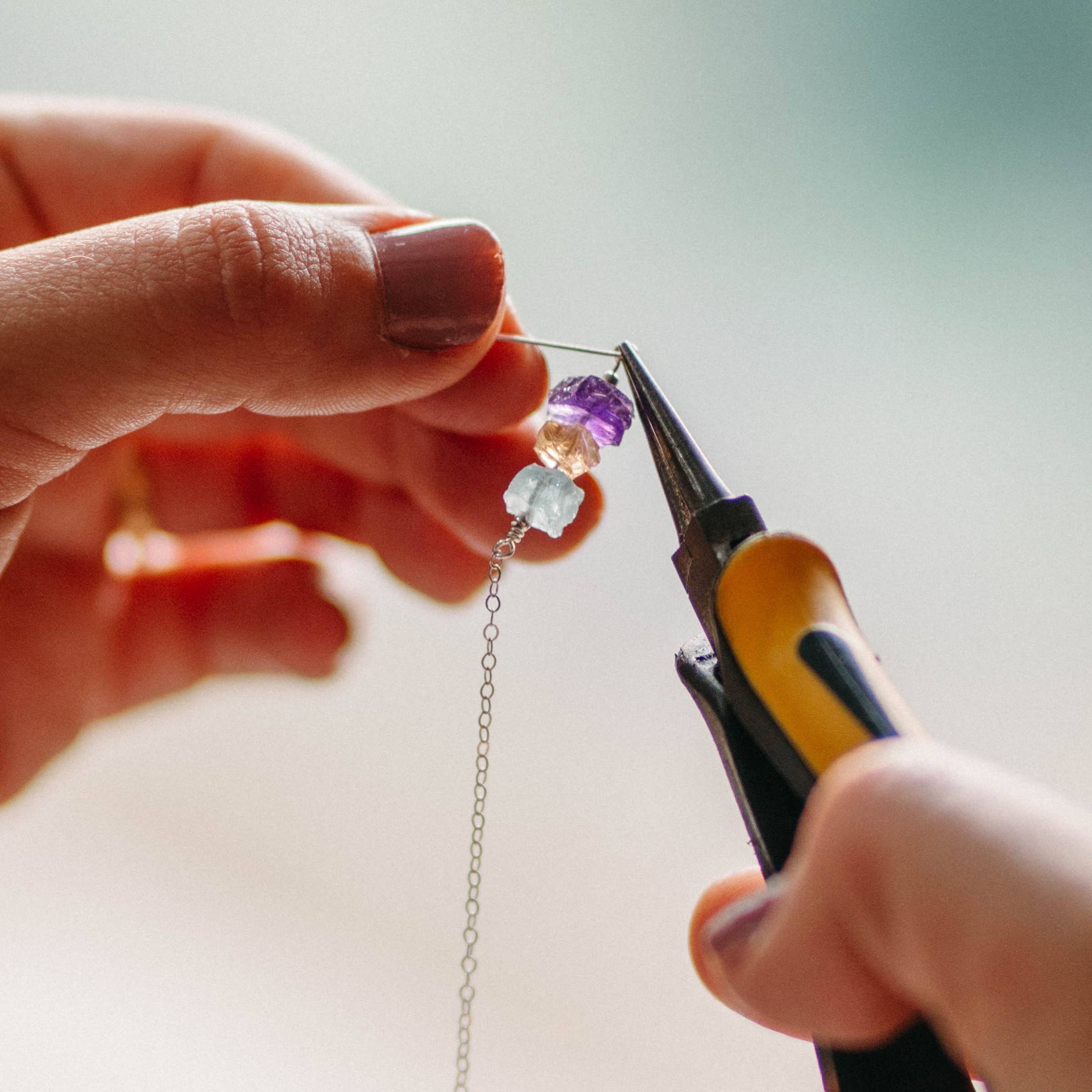 Behind the scenes of making a raw birthstone necklace
Raw Gemstones are Naturally Beautiful and Sustainable
Many stones used in fine jewelry like princess-cut emeralds and rubies are heavily treated with heat, cutting techniques, and even chemicals before you see them on display, diminishing the intimate asymmetry and imperfections that make them extraordinary and beautiful in the first place. Not to mention, these processes add to the environmental impact of the final jewelry. Just take a look at a raw ruby to see an example of how treatment can change the look of a stone.
Maybe you're like many of my customers who have told me that they previously struggled to find birthstone jewelry that fit their aesthetic. Raw gemstone jewelry is anything but gaudy or cheesy. It's laid-back yet sophisticated and special—it's a little bit earthy and a little bit glam.
Jewelry is a tangible reminder of our strengths, triumphs, and the people we share them with, and raw gemstones represent the duality of our journeys and personalities:
Beautiful but resilient
Delicate and strong
Poised but oh-so-powerful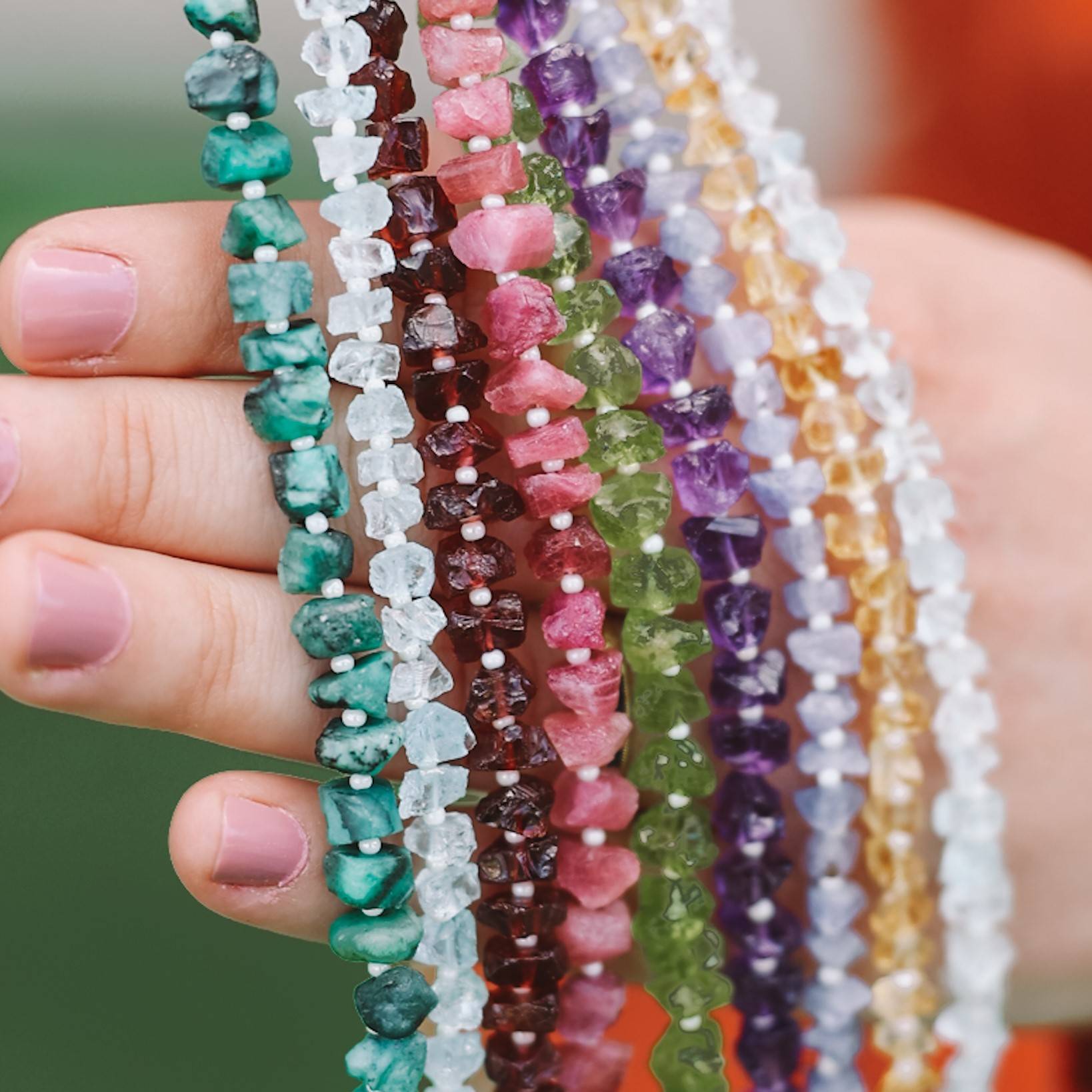 Frequently-Asked Questions about Raw Gemstones:
What are raw gemstones and raw birthstones?
The term "raw" refers to the natural, uncut shape of gemstones that are minimally processed after being mined. Other names for raw gemstones include rough gemstones, gemstone nuggets, uncut gemstones (yes, just like the viral TikTok of Julia Fox) and natural gemstones. Unlike gemstones that are cut, faceted and polished, raw gemstones retain the natural edges (or in gemology terms, the "planes") that the crystal formed inside the earth. Like a fingerprint, each raw gemstone is unique and has it's own shape, texture, and characteristics that tell a compelling story about everything it endured under the elements to become the gem it is today. Kind of like you.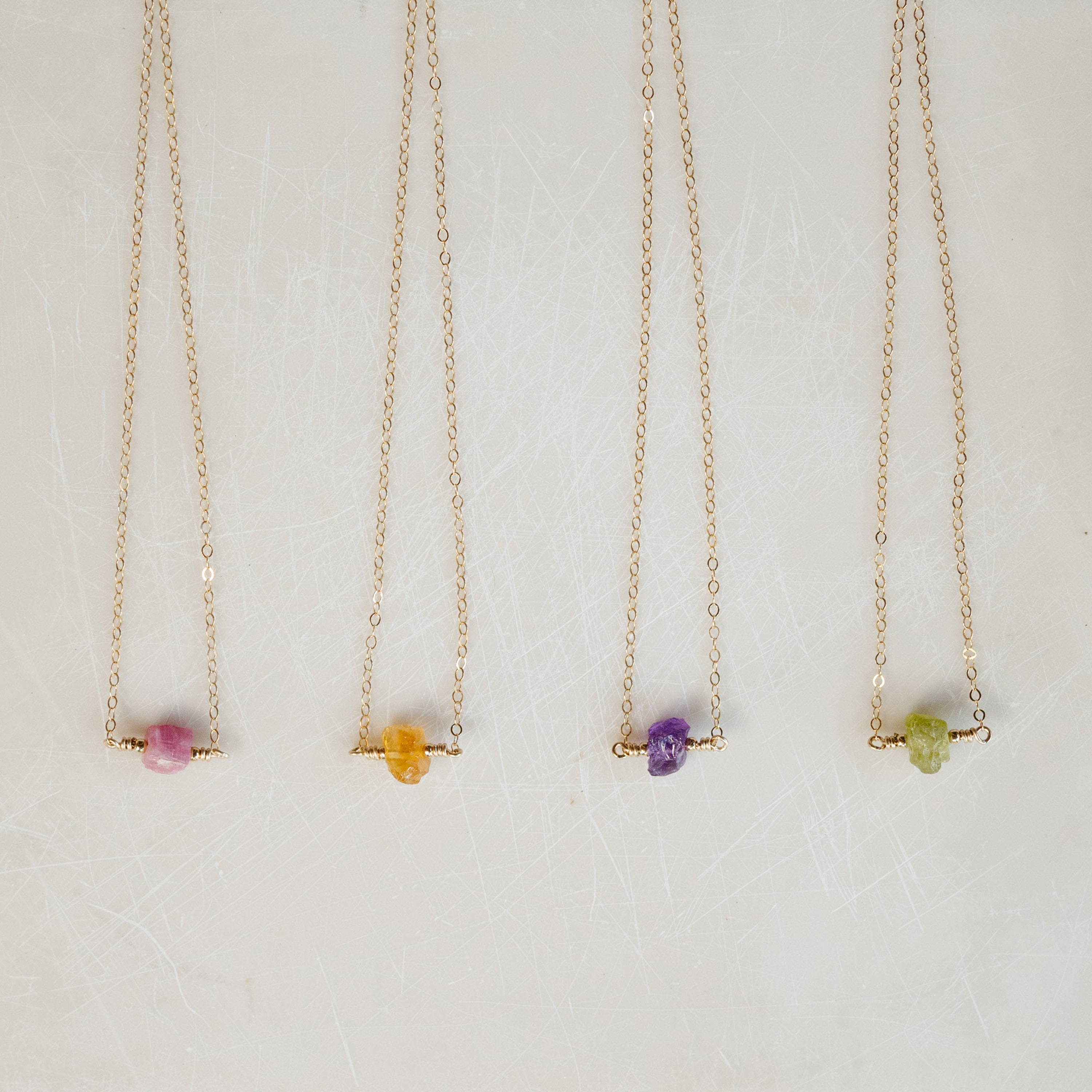 What do raw gemstones look like?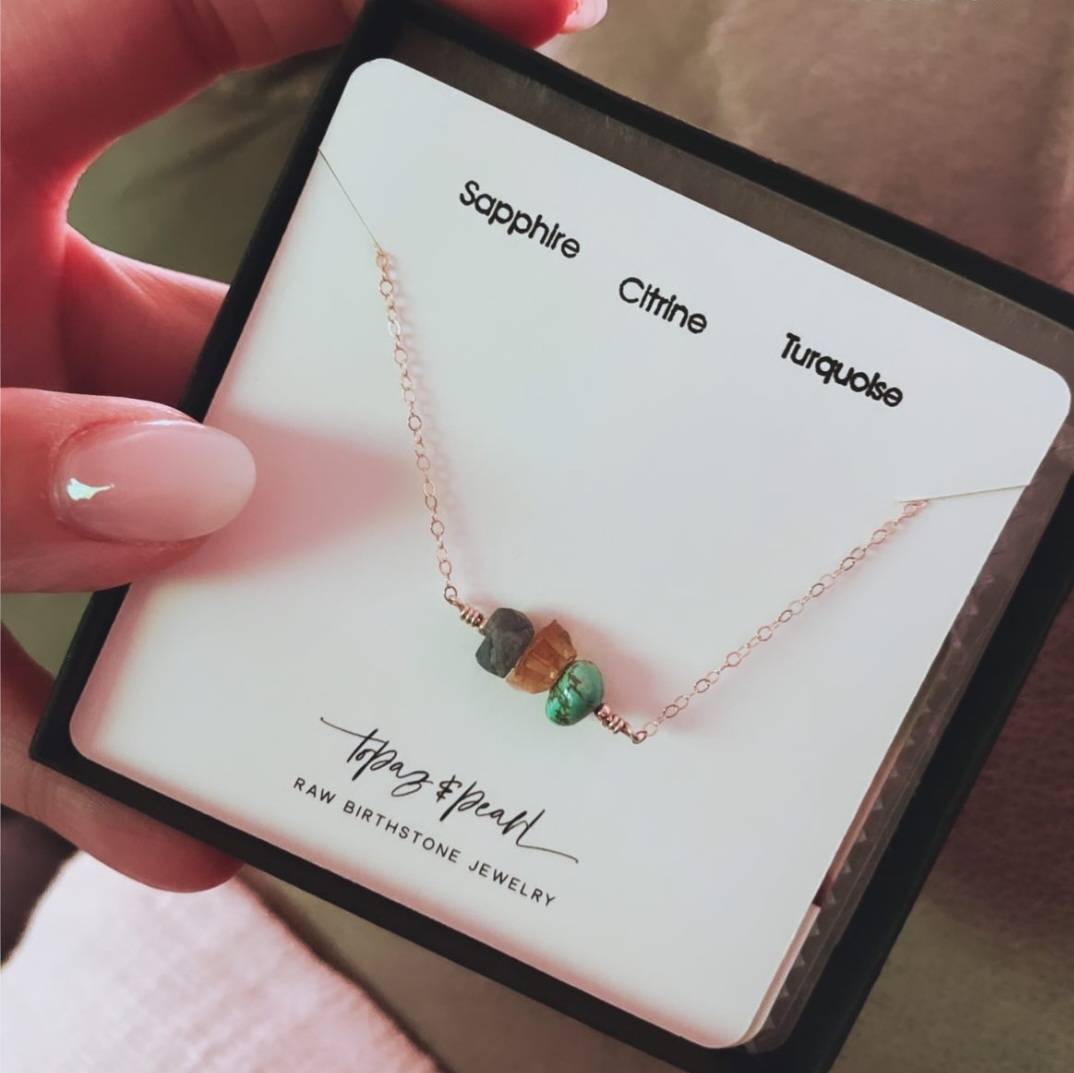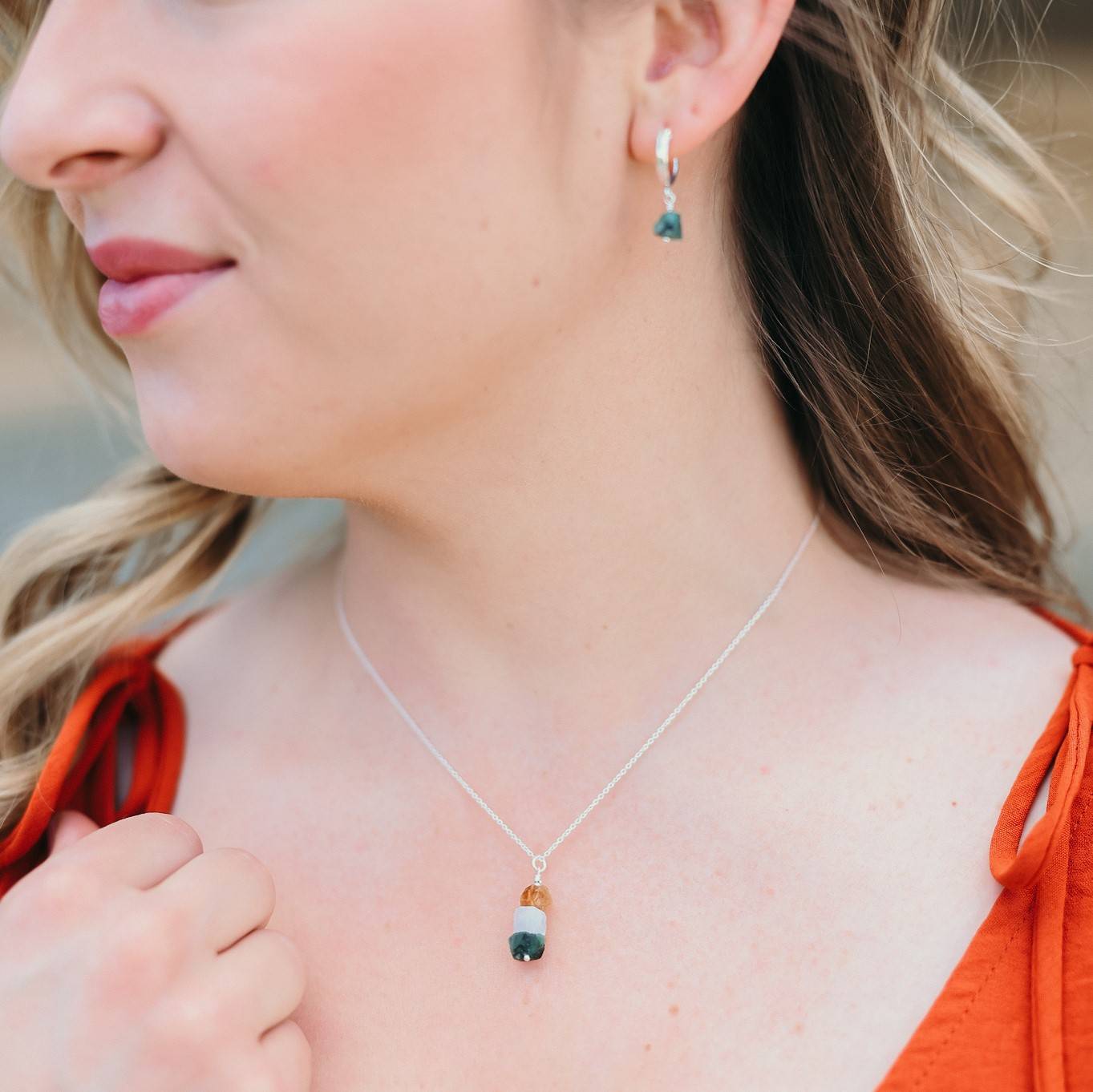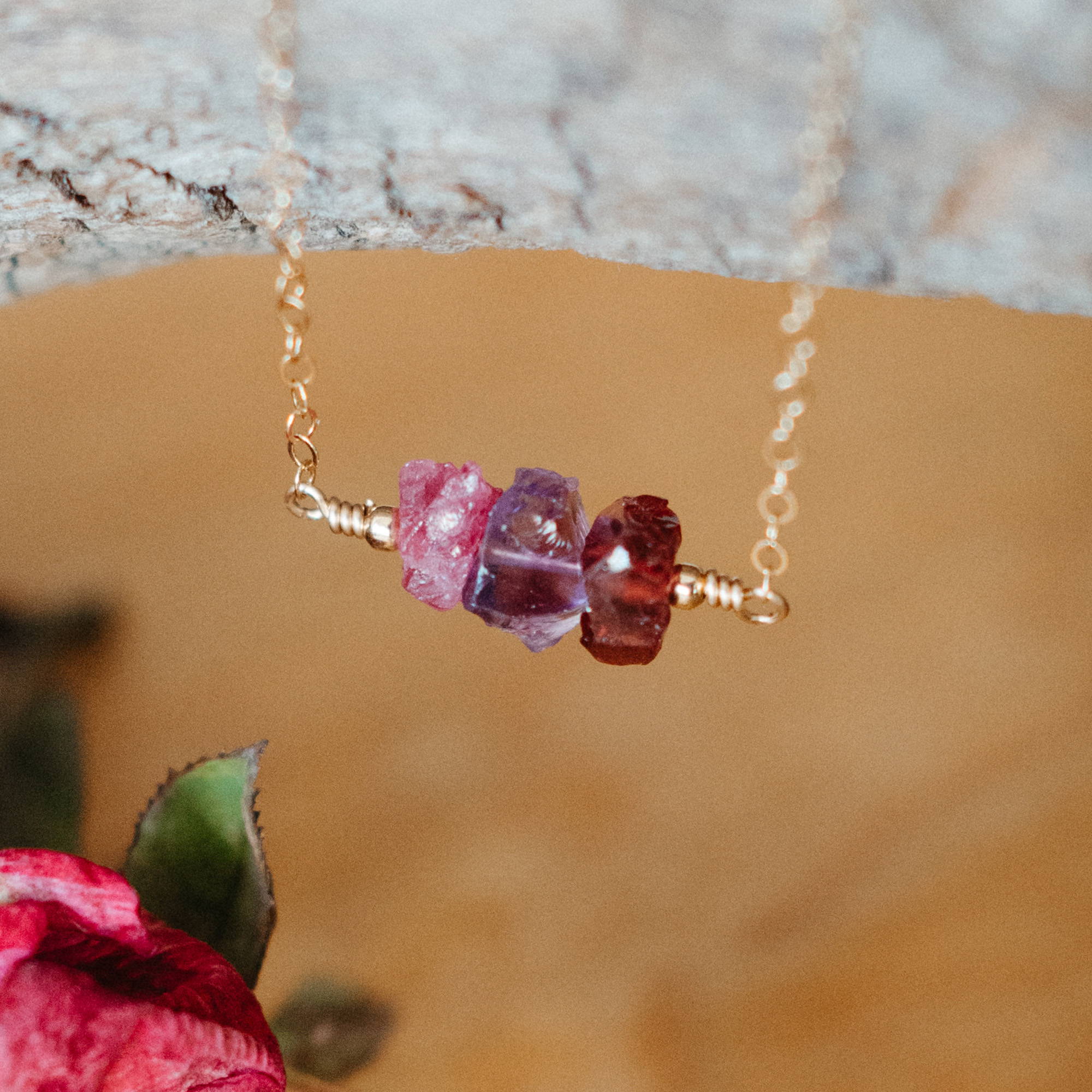 What is my raw birthstone?
Each month of the year is represented by a unique precious or semiprecious gemstone - some months even have two! Find your birthstones in our month-by-month guide. Since "raw" stones only refer to the shape, your raw birthstone is the same as your traditional birthstone (but looks so much cooler).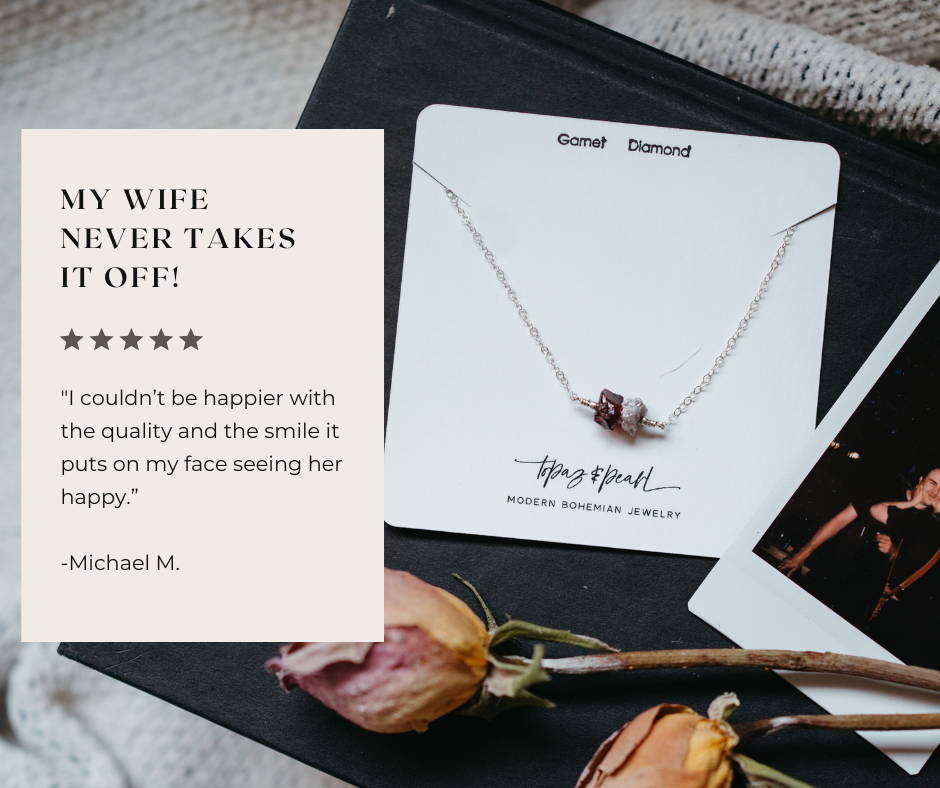 Why does my raw birthstone look so different than what I've seen before?
Most stones are cut and heavily treated with heat, pressure, dyes, and solvents before they are used in jewelry. Raw birthstones are natural and contain "imperfections". For example, a raw ruby is actually opaque and smooth with black specks throughout which is a stark contrast to the bright (heat-treated) faceted rubies typically seen in fine jewelry.
To be crystal clear (pun intended), raw birthstones do not have any finishing touches like polish or gloss, so they often have a matte finish, helping the pieces blend more seamlessly into your overall look.

When the different natural textures of gemstones are combined in jewelry, like in a custom raw birthstone necklace, it blends together, formulating a very eye-catching and unique design.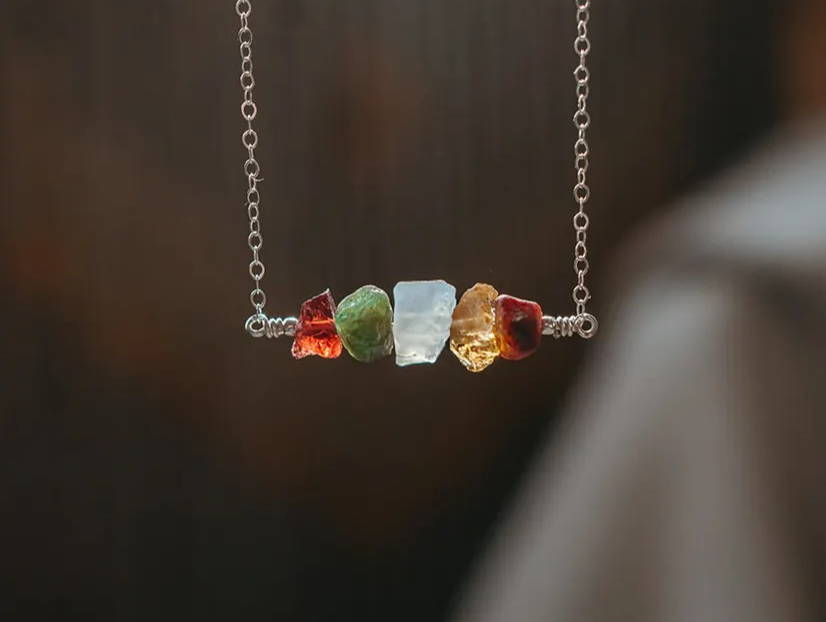 Where do raw gemstones come from?
Raw gemstones and birthstones originate in different parts of the world. The different geographies, climates, and geological properties create the environments for different types of rocks, minerals, and crystals to form. One necklace can contain gemstones from multiple continents!


Here are where some of our gemstones are imported from:
Garnet: Madagascar
Amethyst: Africa
Aquamarine, Topaz, Citrine, Rose Quartz: Brazil
Emerald: Sapota
Herkimer Diamond, Peridot, Turquoise: USA
Moonstone, Ruby: India
Tanzanite: Tanzania


In addition, we are passionate about responsible sourcing and use 100% USA-sourced metals in our raw gemstone necklaces.
What makes raw birthstones special?
Like a snowflake, no two raw gemstones are the same. Uniquely formulated by and intimately connected to the earth, raw birthstones exude a natural unfiltered beauty that their progressively polished and abraded counterparts do not.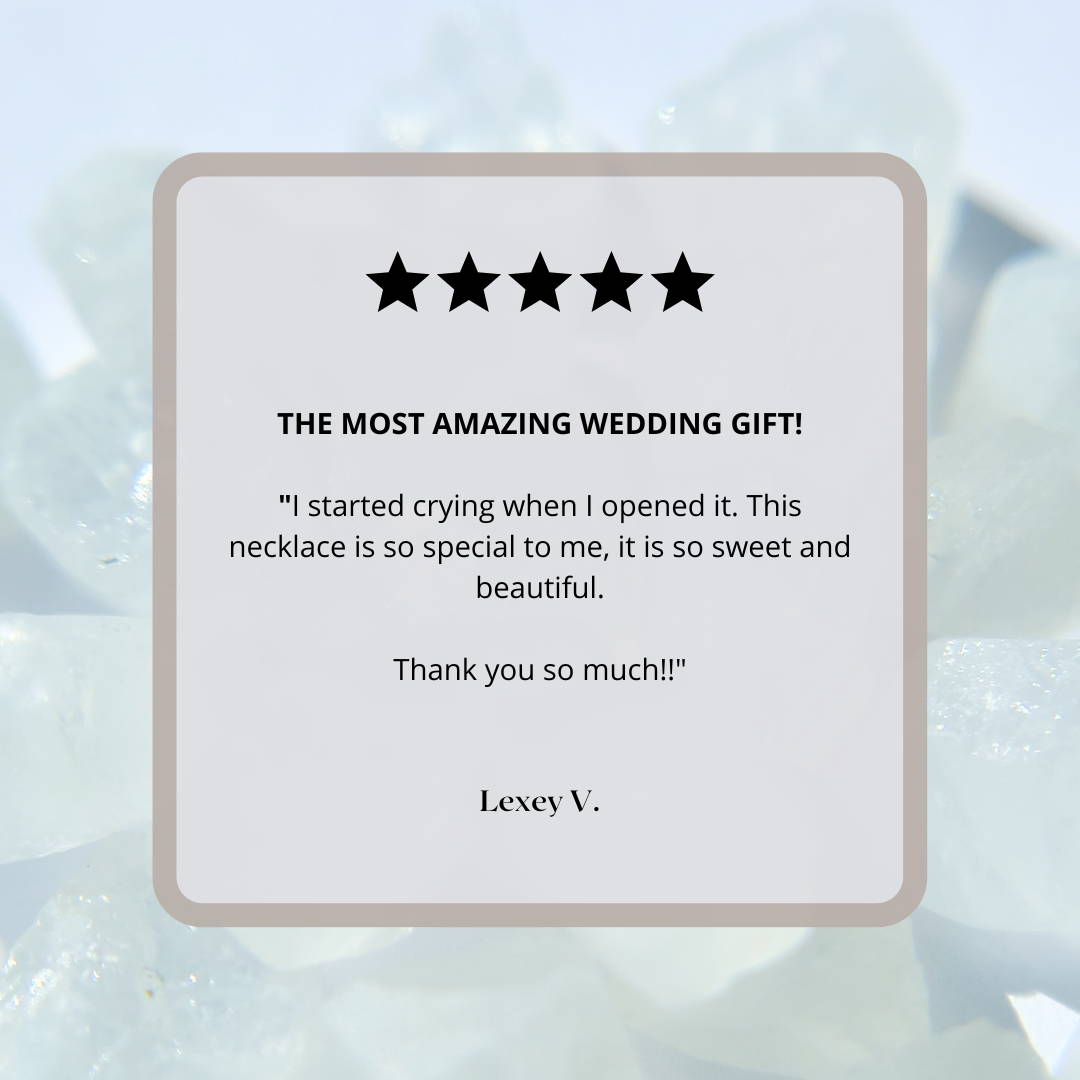 Do raw gemstones require special care?
Our handcrafted raw gemstone necklaces are perfect for everyday wear and require very little maintenance. In fact, they are so resilient that many customers never take them off!


Here are a few tips to optimize the luster and longevity of your raw gemstone jewelry:  
Avoid wearing your jewelry in hot tubs, pools, or submerged in any water laden with chemicals.

Avoid bumping them against hard surfaces or anything that could scratch or break them.

Prolonged sun exposure may affect the natural color of some stones, so storing your jewelry in a cool, dark place when not in use is recommended.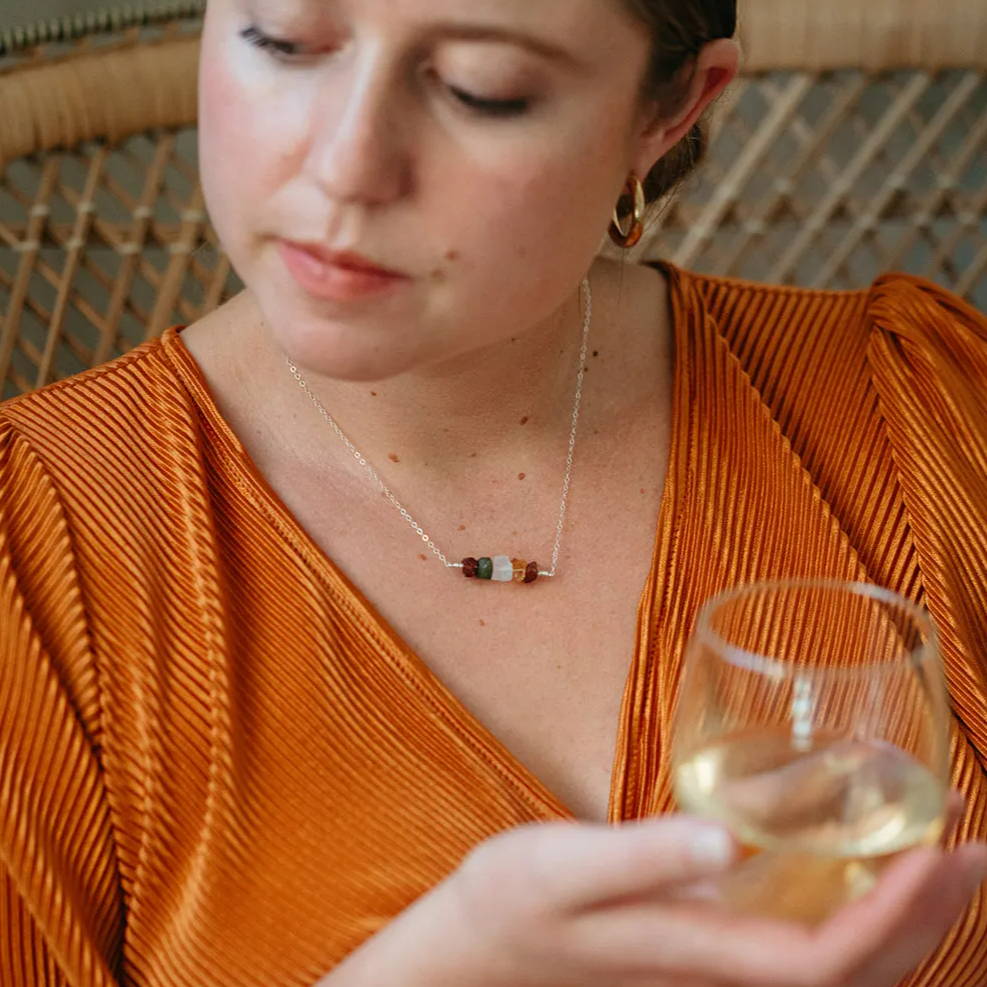 Who is raw birthstone jewelry for?
Raw gemstone pieces are the perfect gift for any woman in your life, including you! A raw birthstone necklace makes an amazing gift for Mother's Day, Valentine's Day, anniversaries, a push present for new or expecting moms, college students, long distance relationships, and anyone you want to celebrate your bond with, near or far.

Personalized and handcrafted to tell a story, each raw birthstone necklace is fully customizable and paints a timeless portrait about your loved one that they will adorn themselves with and cherish forever.

From your children's birthstones to that of your grandmother, the matriarch of your family, each and every piece incites emotion as raw and magnificent as the gemstone itself, making it the most thoughtful and valuable gift for any adored woman in your life.
Raw birthstone jewelry is the perfect Mother's Day, Christmas, or birthday gift that will touch her heart, last a lifetime, and can even be an heirloom!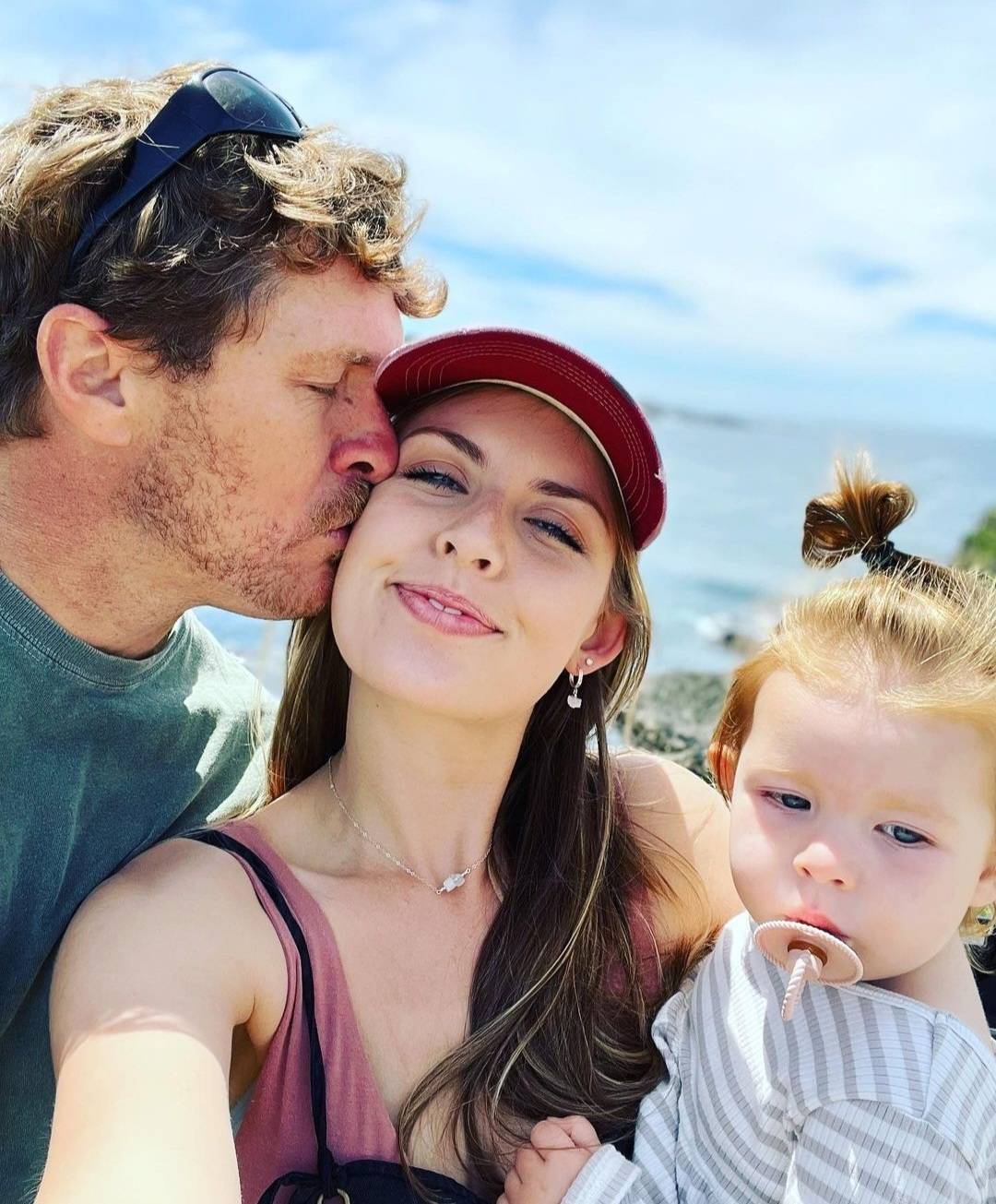 Customer Photo: Sabrina wearing her raw birthstone necklace and matching raw moonstone huggie hoops
I want versatile jewelry pieces I can dress up or down. Can I do that with raw gemstones?
The right piece of jewelry can transform any outfit. Whether you are dressing down for a casual look or going for a more upscale ensemble, raw gemstone jewelry—like these versatile raw gemstone huggies—is an effortless way to enhance your look.

Conventional jewelry is often made with cheap materials that fade and rust quickly, and big, bold jewelry certainly can be overpowering—but raw gemstone jewelry complements your natural attributes and is the perfect finishing touch for any outfit, for any event.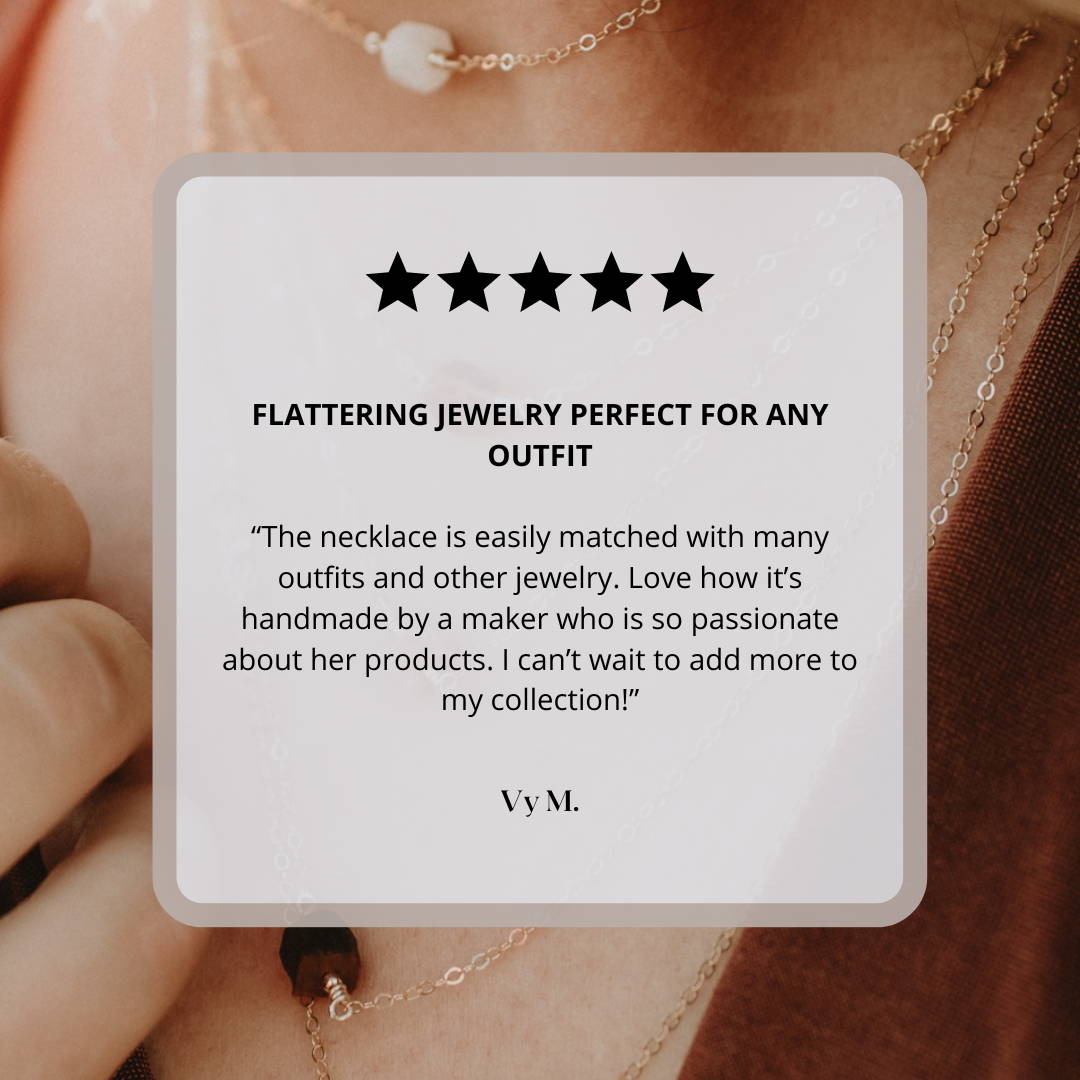 Designed with You in Mind
Our customizable, handcrafted pieces are designed with you in mind. They tell your story, complement your glow, and serve as a tangible reminder of your triumphs and the people you share them with. Using the highest-quality natural elements right from the earth, our pieces—like your story—stand the test of time! They are versatile and perfect for everyday wear. Steal the show and stun in your customized raw gemstone jewelry or design the perfect piece for the woman you love.
Try our fan-favorite horizontal bar for a dainty, minimalist aesthetic or try our stylish and stackable vertical bar if you're feeling fancy or feisty (or both)!
OUR BEST-SELLING RAW GEMSTONE JEWELRY PIECES:
---