Sustainable Jewelry: How Topaz & Pearl Prioritizes Sustainability
Only when the planet thrives can humans achieve long-lasting health and happiness
AUTHOR JULIA CIPOLLONE / PUBLISHED: APR-22-2020 / BACKGROUND PHOTO BY CHRIS LEE
As a business owner, I feel an intense responsibility to my customers and our planet. This means using eco-friendly practices in every aspect of my business, even the things that nobody sees.
Today is Earth day 2020! Earth day is celebrated by the masses one day every year, and those of us who prioritize sustainability live with this appreciation every day. For a lot of us, a deep love for our home is ingrained in us, and for some even transcends a spiritual connection. Even if you're not persuaded into a sustainable lifestyle by an emotional connection to earth, perhaps you have seen enough evidence to know that taking care of our planet is the best thing for our world financially and logically. Humans are dependent on our earth for food, space, resources, water, and everything we need to survive. We are intertwined, we are the same system, we are one. It only makes sense that we prioritize and preserve our only source of life.
Since the inception of Topaz & Pearl, I have prioritized sustainability. I've not yet laid out in detail all of the ways I consider sustainability in my processes for my friends and customers to read. I thought today would be a great day to shine a light on the things our company is doing to reduce our carbon footprint.
Everyone knows that no person, business, or system is perfect. The picture of sustainability is also subjective and hard to measure, which is why it's a confusing subject. For every "green" solution, there's a drawback or an obstacle. That is to say, I hope this blog post provides insight and education, and also leaves room for improvement and suggestions. The focus on sustainability and the choices I make as a business owner will continue to evolve over time as we continue to learn more about the world, and as more alternative solutions become available in the future!
    Sustainable packaging is a large focus of Topaz & Pearl, with a focus on materials that break down quickly when discarded, or can be kept and reused for storage. As an avid ocean-lover, I would be devastated to know that any packaging I created were to end up swirling around the Pacific Garbage Patch or still hanging out in a landfill when my great-grandchildren are alive.
Examples of sustainable packaging that we use:
Paper-based earring cards, tissue, tags, and boxes made of post-consumer material and are recyclable; Nearly all Topaz & Pearl packaging is produced in the USA by small to medium sized businesses.
Plant-based and compostable clear poly bags manufactured in California
Plant-based and compostable bubble mailers for shipping
Plant-based cellulose padding in place of bubble wrap
Recyclable cardboard boxes made with post-consumer content for shipping larger orders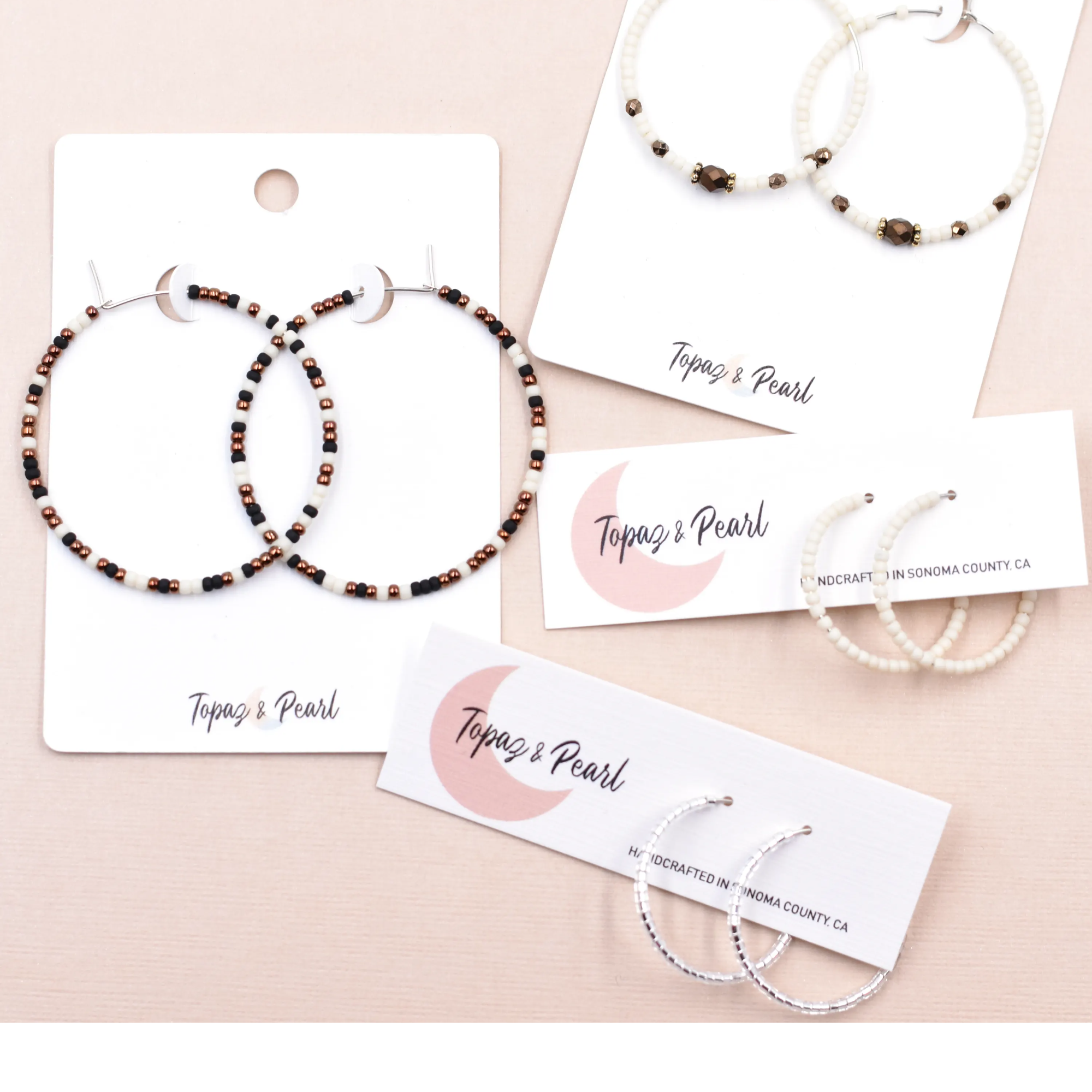 Sourcing ethically-produced materials can be one of the biggest challenges as a business owner because it takes a lot of research. It's a step that not many jewelry designers are willing to do because it is so time-consuming and often more expensive. There is no doubt that producing jewelry, just like any product, creates a carbon footprint. Topaz & Pearl minimizes and partially offsets our impact in many ways.
Examples of sustainability in our materials:
Recycled metals; we incorporate recycled brass and sterling into our pieces as much as possible
Offering raw gemstone pieces which eliminates the electricity, water, and resources consumed in the refinement and polishing of gemstones
Sourcing domestically and locally as much as possible
Reducing the amount of plated materials in our designs and only working with plating companies that use sustainable methods. This also reduces the overall supply needs.
Never allowing cadmium or lead in our designs
Using demi-fine materials that are long-lasting
    "Integrity is doing the right thing even when no one is watching" - C.S. Lewis
    There are many processes that go on behind the scenes in our studio that you may not know about.  
Examples of sustainability in our processes and facility:
Small batch production; Producing items in batches increases efficiency and allows orders to be filled more quickly. However, overproducing is not environmentally-friendly. Small batches allow for quick turnaround without over-ordering supplies or wasting materials if the items don't sell out.
Recycling scrap metals; We have an ongoing collection system to separate and collect scrap metals such as brass, sterling silver, and gold. These will either be refined and reused in-house, or sent to a refinery for recycling.
Recycling materials; When an item is returned, damaged, or broken, it is not discarded. We save everything and will often disassemble a product to salvage the metals and gemstones for reuse.
Donation; When an item is returned, it is sometimes donated to a charitable organization. We also donate lots of materials that we no longer use such as beads and other supplies that may be of use to schools or other organizations. If your organization is interested in receiving a donation, please contact Julia here.
When it comes to packaging that we receive from our vendors, we reuse and recycle everything possible. If you happen to receive some plastic-based bubble wrap in a shipment, rest assured knowing that this is being reused and was not bought new. We use primarily cellulose padding, but will sometimes reuse traditional bubble wrap to extend the life cycle.
Sustainable facility: The Topaz & Pearl studio is located inside Barn 5400 in Petaluma, which has a sustainable building maintenance plan and is outfitted to reduce energy consumption.
    I hope this look behind the scenes gives you a better understanding of how Topaz & Pearl prioritizes sustainability every day. When you get a package from us, you can feel good knowing that every part of it was thoughtfully assembled to create the minimal possible impact. I look forward to evolving our processes as we continue to prioritize the planet in our business decisions. Thanks for reading, and happy Earth Day to you!
---